World War 2 cemetery: headstones
667463 Ldg Aircraftsman J Davidson Royal Air Force 18 November 1945 age 25
3536400 Private H Bradburn The Manchester Regiment 8 October 1945 age 33
W/3658 Private Sundari Subramaman Women's Auxillary Corps 10 September 1945 age 20
P E Turner Chief Petty Officer Pilot RNFX 668837 HMS Valluru 4 August 1946 age 23
SGC 732376 Private J Lantei Acquah The Gold Coast Regiment 17 July 1945
C Elston Ableseaman RNC/JX 333073 HMS President III 30 June 1945
583 L/Cpl E Xavier Madras Signal Company AF (I) 18 May 1945
W Barker 16 May 1945
1874695 WO II (CSM) W B Broad Royal Engineers 10 May 1945 age 26
1695129 Flight Sergeant T H Shirt Wireless Operator/Air gunner Royal Air Force 26 April 1945 age 22
3604622 Private A Wilson The Border Regiment 10 September 1944 age 30
T1543008 Driver H J Longden Royal Army Service Corps 27 September 1944 age 34
Flying Officer R S Euler pilot Royal Air Force 5 October 1944 Age 22
894 Signalman S B Locker Madras Signal Company AFI 27 October Age 17
156151 Sergeant F Thornley Royal Air Force 4 November 1944 Age 44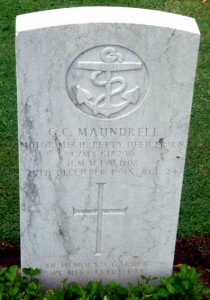 Lieutenant Commander G Richardson RNVR HMS Quebec 23 December 1944 Age 38
5177594 WO II (CSM) J L Hall The Gloucestershire Regiment 19 January 1945 Age 37
836 Gunner H A Raikes Madras Coast Battery RA AF (I) 8 September 1943 Age 39
2082321 Gunner C Rossington Royal Artillery 6 October 1943 Age 36
7897335 Trooper R S P Smith 3rd Carabiniers Royal Armoured Corps 23 November 1943 Age 22
6941 Private A E Clarkson Madras Guards AF (I) 12 December 1943 Age 46
Lieutenant F H Vining Indian Army General List 17 January 1944
1453884 Flight Sergeant R W Bligh Royal Air Force 13 February 1944 Age 22
R C Baker Stoker 1st Class RN C/KX138410 HMS Flamingo 28 February 1944 Age 21
5349040 Private W E Gate The RoyalBerkshire  Regt. 15 March 1944 Age 32
4753564 Private H B Spencer The York & Lancaster Regt. 30 April 1943 Age 28
1840751 Gunner W L Woodroff Royal Artillery 26 January 1943 Age 29
7533923 Private H H Wrighman Royal Army Medical Corps 20 December 1942 Age 30
Lieutenant F E Caton Royal Armoured Corps 14 December 1942
5335831 Private W Hogg The Berkshire Regt. 1 December 1942 Age 32
1244950 Aircraftsman 1st CL. A W South Royal Air Force 23 November 1942 Age 22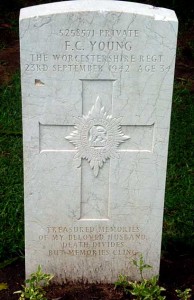 3718513 Private V Clarke The Royal Berkshire Regt. 6 November 1942 Age 28
1600290 L.BDR I W Mitchell Royal Artillery 22 October 1942 Age 26
Flying Officer K B Leaver Pilot Royal Air Force 16 May 1944 Age 21
628340 Flight Serjeant C F Gardiner Air Gunner Royal Air Force 16 May 1944 Age 23
14405770 Private A J Godward The Seaforth Highlanders 29 May 1944 Age 17
1224185 LDG Aircraftsman H W Powick Royal Air Force 3 June 1944 Age 37
635939 Flight Serjeant LSC Jackson Royal Air Force 17 July 1944 Age 30
4626246 Signalman H R Jones Royal Signals 24 September 1943 Age 32
14304993 Gunner W J Rose Royal Artillery 21 July 1944 Age 32
Major W A B Maxwell Southern Rhodesia Medical Corps 7 September 1944
7367467 Serjeant G F Daniel Royal Army Medical Corps 15 May 1944 Age 26
15466 Aircraftsman 1st CL C W Davies Royal Air Force 3 May 1944 Age 22
6402765 Private J Kay The Royal Berkshire Regt 1 May 1944 Age 29
764 Signalman R Timms Madras Signal Company AF (1) 13 April 1944 Age 23
1433912 Sergeant D W Day Royal Artillery 26 March 1944 Age 28
969634 Bombadier  W H Dean Royal Artillery 17-18 September 1943 Age 23
4914127 Private D C Thomas The South Staffordshire Regiment 23 September 1942 Age 26
2nd  Lieutenant R M Shepard 16thPunjab Regiment 25 September 1942 Age 20
1068916 Flight Sergeant R R Stewart Pilot Royal Air Force 11 October 1942 Age 27
1360289 Sergeant R H Worrall Wireless Operator/Air Gunner Royal Air Force 11 October 1942 Age 30
5335323 Private W A Sillence The RoyalBerkshireRegt 13 October 1942 Age 27
1244950 Aircraftsman C L  A W South Royal Air Force 23 November 1942 Age 22
5335831 Private W Hogg The Royal Berkshire Regt 1 December 1942 Age 32
1747902 Gunner T W Rogers Royal Artillery 5 September 1943 Age 36
931286 Corporal R G Northam Royal Air Force 7 August 1943 Age 30
4173 Private P George Madras Guards AFI 4 June 1946
1484601 Gunner S Scott  Royal Artillery 3 June 1943 Age 44
Captain D F Ricketts 6th Gurkha Rifles 5 May 1943 Age 22
A/97525 Sapper C Obasi West African Engineers 23 April 1945
S Wamidas Wilson Able Seaman RIN 1916 HMIS Madura 29 April 1945 Age 23
3652 Private W Garrard Madras Guards A I (I) 15 April 1945
T W Anderson Able Seaman RN P/JX678302 HMS President III 2 April 1945 Age 19
Captain Thomas Henry Wade IAOC died 6 March 1945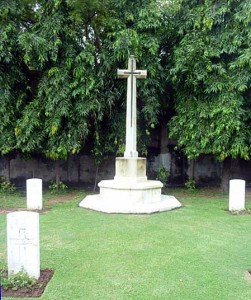 1526219 LDG Aircraftsman W Beavis Royal Air Force 18-19 November 1945
G C Maundrell Motor Mech Petty Officer RN  C/MX518299 HMMFV 1108 25 December 1945  Age 24
5258571 Private F C Young The Worcestershire Regt 23 September 1942 Age 36
15955289 Bombadier D L Dunstan Royal Artillery 17 September 1942 Age 28
5335283 Private R F Woodward The Royal Berkshire Regt 15 September 1942 Age 26
884555 Gunner F Poole Royal Artillery 6 September 1942 Age 22
639550 Aircraftsman 1st CL E Round Royal Air Force 5 September 1943 Age 23
5334611 Private E A C Smart The RoyalBerkshireRegt 18 August 1942 Age 29
3543 Private A Allen Madras Guards AF (1)  24 July 1942
5250527 Private E Dellaway The Worcestershire Regt 18 July 1942 Age 29
6006161 Private A Duke The Welch Regiment 4 July 1942 Age 34
T/255421 Driver W Vernon Royal Army Services Corps 3 July 1942 Age 25
5618691 L CPL D N McCall The Devonshire Regiment 9 May 1942 Age 22
3409 Corporal S O Boyd Madras Guards A F (1) 9 October 1941 Age 39
1054895 Serjeant R H Boyle Royal Artillery 1 November 1941
1065 Gunner J A MacFarlaine  Madras Field battery RAAF (1) 25 September 1941
2318715 L SJT S J Watts Royal Signals 13 March 1941 Age 31
*In memory of Corporal John Purdy HM 63rd Regiment Aged 33 years leaving a widow and five children
*No3854075 Pte Stanley Pickavance died at Madras28 December 1937. Erected by his comrades 1St Battallion The Kings Own Royal Regiment.
*In memory of No 3710634 Private Charles Frank Hudson who died in Madras 2 November 1937
*Georgina Everett beloved mother of Clarice and Jack Everett died 9 June 1938 aged 76 years 10 months
*No 3710696 Private Harold Dickinson who was killed by a shark when bathing from Fort Beach 26 February 1939. The Kings Own Royal Regiment
5568973 Private J R Tomkins The Wiltshire Regiment 14 October 1939 Age 24
5568691 Private C R J Leng 25 December 1939
*P F Blankwaardt 3 De Werktuigkinige N V Koninklijke Paketvaart Maatschappij overleden op 4 Maart 1942 A/B SS Patras 33 years
5571467 Private E C Lukins The Wiltshire Regiment 4 September 1940 Age 21
*Captain Frederick Ronald Hartley late 2nd Battalion Manchester Regiment MES and PWD Madras 11 July 1936 49 years
*Margery Jane only daughter of Charles and Isabel Grey and wife of Joseph Edward Elliott May 6 1935 Age 31
*Captain Charles William Netscher Stewart IMD 18 March 1934 52 years and 16 days
*Mr Simon Hyman mate HM Sloop Woolf died from the bite of a water snake on board HM Brig Algerine in Madras Roads 18(9)37? age 21 years
*No 5046010 Private Frederick Hitt died atMadras30 July 1935? North Staffordshire Regiment
*No 5624149 ? John Thomas Rossiter 2nd battalion Suffolk Regiment Madras 10 September 1937?
*LXIV  ?5045637 Private Ratcliffe died Madras 1933? Age 25
The following two graves are actually in the main Pallavan Salai cemetery:
2nd Lieutenant CTS Ransom, Army in Burma reserve of Officers, 13 February 1943, aged 52 years
690 Signalman W Huffton Madras Signal Company A.F (1), 18 May 1945 aged 29 years.