St Mary's Cemetery, Pallavan Salai, Chennai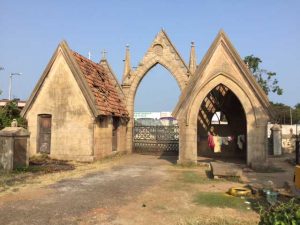 This is a very old cemetery and contains many graves, unfortunately so many of them are now ruined beyond repair or contain no decipherable headings. There does not appear to be any book which may help finding a grave and it is quite treacherous to walk around the site because of plant growth, broken headstones or creatures in the undergrowth.
Some of the headstones which are possible to read:
Lt Thomas Davies
Lt John William Nattes, 18 May 1818,
3rd Pallamcottah Light Infantry, 73 Carnatic infantry 83 Wallajahbad Light Infantry
Josiah Webbe, Chief Secretary to Government 9 November 1804
Rev Frederick Christian Swartz, Protestant Missionary for Government, Denmark 13 February 1798
Conway – Adj General. Obiit 13 May 1837
Catherine Jane, wife of Guy Lushington, Prendergast, Madras Court Service, daughter of James Annesley, Madras Medical born 31 July 1811, died 10 August 1839
Nancy Adair Sabine, wife of J M Young, born 2 February 1865, died 3 December 1903
Captain and Brevet Major Cowper Rochfort, died Cape of Good Hope 9 July 1847, 27th Regiment
Captain Robert Scott Wilson 21st Regiment, Madras Infantry, died on board 'Sesostris' to Cape of Good Hope, 17 March 1832 aged 42 years
John Augustus Pallister of Castle Maiden, Co Kildaire, Captain 76th  Regiment, died Fort St George 30 June 1864 aged 30 years
George Phillip Bridesell Skerand, V Advocate General, Madras Army 16 January 1880
Sacred to the Memory of Alexander Morrison, Surgeon HM 34th Foot. He died on 17 July 1805 in the 33rd year of his age, universally esteemed and regretted by all who knew him.
In loving memory of Joseph Saul Fletcher of SS Chupra killed by a shell from the German Cruiser EMDEN, September 22 1914, aged 18 years